organissimo EPK (Electronic Press Kit)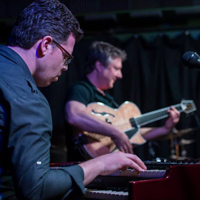 Quotes:
"organissimo invigorate[s] the organ trio tradition with fresh takes on the genre... eclectic... classic... inventive... "
~ Bill Milkowski on JazzTimes.com

"...successfully walk[s] the line between complex and accessible, maintaining super-tight grooves throughout."
~ Keyboard Magazine

"[organissimo] is thoughtful without being too earnest; danceable, but never repetitive."
~ Downbeat
"...stretches the boundaries of the traditional organ trio with bits of funk, blues, Latin, groove, and New Orleans influences."
~ Jazzweek
"But what I like best about the band are the one-for-all mentality and the attention to details of dynamics, pacing and groove. These guys will put a smile on your face and keep it there."
~ Detroit Free Press
"... one of the most promising organ trios in jazz. "
~ Chicago Tribune
"organissimo is not your garden variety, grandfather's organ combo."
~ All Music Guide
"... aficionados should consider [organissimo] a red alert."
~ Cadence Magazine
"Once these guys lock in, a crowbar is needed to disengage them. The vibe is magnetic."
~ jazz.com
"...[organissimo] destroys all of the stereotypes."
~ radioIO Real Jazz

QUICK BIO: You might notice of something different at an organissimo performance. The audience isn't the typical homogenous "jazz" audience. You'll see a healthy mix of people from all walks of life; young and old, black and white, from hippies to corporate professionals and everything in between. organissimo's music skirts over fences and satisfies a diverse range of tastes. You're as likely to see people dancing as a group of folks intently listening.

As American cultural critic Elvis Mitchell wrote after witnessing a show at Baker's Keyboard Lounge, "The group's toned, muscular playing keeps the crowd rapt, a condition noticeable by the fact that almost no one is talking."
organissimo formed in November of 2000 with the goal of bringing jazz back to the people. organissimo's sound is instantly identifiable yet constantly evolving, infusing elements of funk, gospel, blues, progressive rock, and Latin rhythms into a solid foundation of jazz. Shifting meters, deep grooves, melodic finesse and tight ensemble interplay are hallmarks of the organissimo sound.

organissimo's music has received numerous awards. The latest CD, Dedicated, released in January of 2013, hit #5 on the JazzWeek charts and stayed in the Top 10 for 8 weeks. It hit #1 on the CMJ jazz charts and was named one of the Top 10 CDs of 2013. It received airplay on over 200 stations including Comcast's MusicChoice and XM/Sirius Radio.

organissimo's album, Groovadelphia, topped the CMJ Jazz Charts for three weeks at #1 and stayed in the JazzWeek Top 50 for 14 weeks, peaking at #22. It won two WYCE Jammie Awards for Best Jazz Album and Best Song and was also named one of the Best Releases of 2008 by WVPE, KJAZZ, CKCU-FM, and Jim Wilke's Jazz After Hours program, syndicated on over 60 NPR stations nationwide. It is also nominated for a Detroit Music Award.

organissimo's sophomore album, "This Is The Place", hit #19 on the JazzWeek charts and a solid #4 on the CMJ charts. It also won two WYCE 2006 Jammie Awards for Best Jazz Album and Album of the Year , and was nominated for 2005 Detroit Music Award. Like its predecessor, it was named one of the Best Releases of 2005 by Jim Wilke 's Jazz After Hours program in Seattle, WHRV in Virginia Beach, WBEZ in Chicago, WVIA-FM in Pittston PA, WBLV Blue Lake Public Radio, WLNZ in Lansing, WEMU in Ann Arbor/Ypsilanti, KXJS in Sacramento, and WYCE in Grand Rapids, Jazz 90.1 in Rochester NY, Real Detroit Weekly Magazine , the Detroit MetroTimes and the Lansing City Pulse. NPR also featured the CD as a part of its Open Mic series.

The group also won a WYCE Jammy award for Best Jazz Album for their debut CD "Waiting For The Boogaloo Sisters..." (which features prominent New York saxophonist Ron Blake ). The CD was also named one of the Best Releases of 2003 by Jim Wilke's Jazz After Hours program, syndicated on over 60 NPR stations nationwide.


Past Performances of note:
organissimo has performed at venues and festivals across the US and internationally including the famous Baker's Keyboard Lounge in Detroit, Chris' Jazz Cafe in Philadelphia, The Green Mill, The HotHouse, and Andy's Jazz in Chicago, The Philadelphia Museum of Art's Art After Five series, The Jazz Kitchen in Indianapolis, the 2003 Clearwater Jazz Holiday, the 2005 Idlewild Music Festival, the 2006 Chicago Jazz Festival, the 2006 and 2007 Detroit International Jazz Festival, the 2006 Syracuse Jazz Festival, the 2007 Tel-Aviv Jazz Festival in Israel, the 2009 Rochester International Jazz Festival, the 2010 Old Town Jazz Festival, the 2015 Founders Festival, the 2015 Summer Solstice Jazz Festival, the 2015 Tupelo Music Festival, and the 2015 River Raisin Jazz Festival among many others.

Individual Bios:
Jim Alfredson - Hammond B3 | Larry Barris - guitar | Randy Marsh - drums



Albums:
Dedicated (2013) | Alive & Kickin'! (2010) | Groovadelphia (2008) | This Is The Place (2005) | Waiting For The Boogaloo Sisters (2003)

Hi-res promo photo:
click here to download (8.3mb)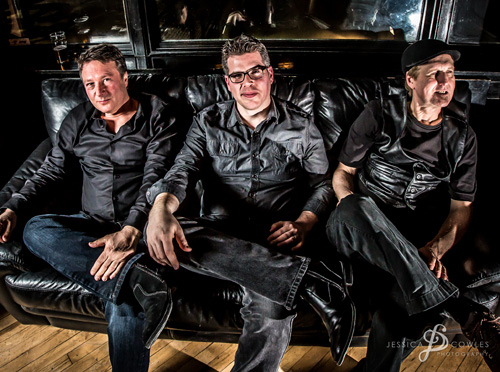 Contact (booking):

John Sage
Phone: 650.438.0878
johnsagesf@gmail.com